We know how much goes into serving a hot plate of good food, with a smile. It is not just a business. The Akshaya Patra Foundation UK (TAPF UK) invites restaurants to amplify that love. Help us tackle hunger and improve nutrition. Partner with us to show patrons that you serve from your heart and not just your kitchen.
How can your restaurant play a part to transform lives?
You can choose to
support children in India
or UK or both nations.
Add a voluntary £1
to each bill.
Donate a part of your
profits as a one-off
donation each quarter.
Adopt a school in India to
sponsor meals to children
all year. Visit the school
when you can.
Dedicate proceeds from
a special dish to raise
funds and awareness.
How does Restaurant Partnership with Akshaya Patra Charity work?
By adding a voluntary £1 donation to each bill at your restaurant, you can help us come closer to our mission of feeding 5 million children hot, nutritious midday meals every day. Alternatively, £1 can feed a child in the UK with a hot meal.
We provide you with all of the marketing materials you need free of charge, including staff information and discrete cards to be placed on tables to inform diners of the scheme.
You could either place the cards on the table or present it with the bill so that customers are fully informed
When you issue the bill, you add on the £1 donation after service and VAT (VAT returns will not be affected).
Electronic tills make this very simple and most restaurants allocate a button for the donation so that it appears clearly on the customer's receipt.
At the end of each month or the period the scheme is operating, you can pay the donations to Akshaya Patra Foundation UK in one payment by cheque or bank transfer.
The Power of £1
In India, £1 provides nourishing school meals for one child for one month. Over 20 years of feeding children throughtout multiple states, we have observed that school meals increase concentration and attendance.
In the UK, £1 subsidises a nutritious meal a day for children and those experiencing food poverty.
Through educating a child, the poverty cycle can be broken. Each educated child can lift at least 4 family members out of poverty.
Through the cumulative effect of all of the donations at your restaurant, we can feed hundreds of children for the whole school year. Restaurants can partner with TAPF UK charity in the UK and sponsor nutrition to help us create positive change by ending hunger and poverty in the UK or India.
Meals for Meal Partner – Dishoom
Since 2015, for every Dishoom meal you've enjoyed (whether in the cafés, via delivery, or as a meal kit), they've donated a meal to a child that might otherwise go hungry. A meal for a meal. In March of 2021, they reached the milestone of donating 10 million meals.
You can find a list of our partners – businesses, restaurants and community organizations that recognize the value of giving and making a difference to those in need on our partner with us page.
Testimonials from Children
"I appreciate a hot meal in London weather being offered by Akshaya Patra" – George (Age-7)
"I like the food served because it is warm and fresh. I especially like the pulao. The lunch makes me happy, and is one of the reasons I like coming to school". – Saraswathi (Age-12)
Read more stories of our beneficiaries, kitchen staff, teachers and supporters here – Stories of Hope
FAQs
What is TAPF's Mission?
The Akshaya Patra Foundation is the world's largest NGO providing school meals. We believe no child should be deprived of education because of hunger. Every day we feed free school meals to over 1.8 million of India's most deprived children. This is often the only meal they will receive.
In the UK, TAPF UK offers fresh, nutritionally-optimised, vegetarian meals to children eligible for Free School Meals and others at risk of food poverty.
By providing free nutritious meals, we encourage families to send their children to school. Pupils are better able to concentrate on their studies and attendance at schools increases.
Our mission is to feed over 5 million children by 2020. We have served over 2 Billion meals.
What will does it cost us to participate?
Nothing. We will provide you with all of the materials you need to promote and explain the scheme. The donation is easy to process by allocating a button on the electronic till so there is minimal administration.
For restaurants choosing to pledge a percentage of meals sold, you gain investment in the futures of children and encourage customer and staff loyalty at the same time.
Will participating in the scheme affect tips?
Most restaurants have found that there is no affect to tipping. Customers usually calculate their tip separately and don't make adjustments for the donation. Since the scheme doesn't present an administrative burden, most staff enjoy the fact that their employer values social responsibility.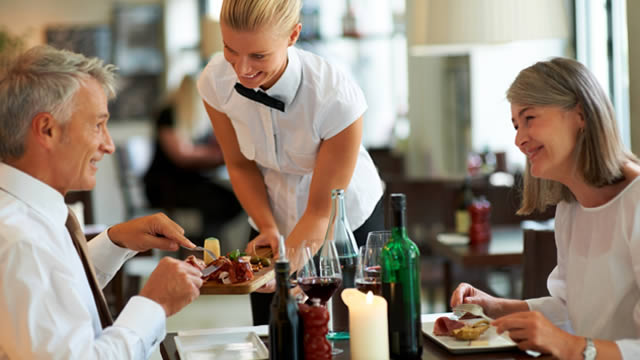 What if a customer doesn't want to make a donation?
The donation is voluntary and if customers do not wish to make the donation it can easily be removed from the bill. Research has shown that most customers are more than happy to make the donation and very few refuse to participate.
Details about the scheme are provided on tabletop cards or menus showing and show the customers how their donation will be spent and that they can opt-out. So after enjoying a delicious meal at your restaurant, diners can walk away not only with happy stomachs, but happy souls with the fuzzy feeling of having ensured that a hungry child will eat too.
Will the donation affect VAT?
No. The donation is added after service charge and VAT so will have no effect on your VAT returns.
What else?
Customers increasingly expect companies to demonstrate corporate social responsibility. Research published by Business in the Community shows that 86% of customers will choose a product or service associated with a cause when price and quality are equal.
TAPF UK We will promote your participation across our network of donors, supporters, and partners and channels.
Most important of all, you and your business will be helping us reach malnourished children in India or the UK, providing them with food, education and hope for the future.
How do we sign up?
To sign up, register your interest or find out more, contact us on 020 8004 8743 or click the button below to send us an email to office@tapf.org.uk
---
---